PM Modi 'is Tough and Also Has Style,' Says President Barack Obama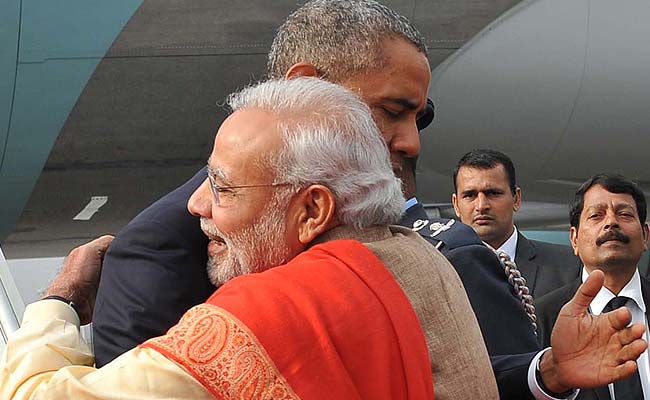 Prime Minister Narendra Modi hugs President Barack Obama as he arrives in New Delhi.
(Agence France-Presse)
NEW DELHI: If Prime Minister Narendra Modi mentioned his "chemistry" with the US President after the bilateral summit, Mr Obama reciprocated during the banquet at Rashtrapati Bhavan this evening.
Recalling PM Modi's childhood when his father was a tea vendor and his mother was working in other households, President Obama said, "Tonight their son welcomes us as the Prime Minister of the world's largest democracy."
"Now we all know about Prime Minister's legendary work ethics. He was explaining to me today that how he got only three hours sleep, which made me feel bad. I was doing ok with five. What I didn't know is that he survived an attack by a crocodile. So he is tough and he also has style," Mr Obama said.
Earlier in the day, the US President had joked about PM Modi getting little sleep. "That is perhaps because he is new. After you have done it for 6 years, you can get an extra hour," he had said.
At the banquet, President Obama also talked about the Prime Minister's sense of fashion.
Recalling a headline in the media back in the US which asked who is the new fashion icon other than Michelle Obama, he said, "I was thinking of wearing a Modi kurta myself."
Indicating that he has found common ground with Mr Modi's humble beginnings and status as an outsider in politics, Mr Obama said, "I most often said that my story could happen in America and of course Mr Prime Minister, your story can happen only in India."
This morning, the Prime Minister had broken protocol and went to receive the US President at the airport. Their hug had highlighted the bond between the two leaders who had first met during the Prime Minister's maiden visit to the US in September.
The President had broken protocol to show PM Modi around at the Washington's Martin Luther King Jr Memorial. This time, they had bonded over cups of tea, poured out by the Prime Minister during their one-on-one session this afternoon.
"Barack and I have forged a friendship. There is openness when we talk on the phone and we also crack jokes," the Prime Minister had said. "This chemistry has brought Barack closer to me but also brought the people of India and America closer."
Courtesy: http://www.ndtv.com/article/india/pm-modi-is-tough-and-also-has-style-says-president-barack-obama-653607?ndtv_alsoread
Story First Published:

January 25, 2015 23:07 IST